Analysis of No-Load Test on a Power Transformer: Case Study of 2.5MVA 33/11KV Transformer Located in Harmony Estate, Nigeria
Dan Horsfall

Frederick Eneotu
Keywords:
Power transformers, No-load test, Load conditions, MATLAB-Simulink simulation, Analysis and testing
Abstract
This research addresses a significant research gap in the study of no-load test on power transformers. Despite the widespread utilization of no-load tests for assessing core losses and excitation characteristics in power transformers, there is a lack of comprehensive studies exploring the impact of various specific factors, including frequency characteristics, load conditions, instrument conditions, and design parameters, on the accuracy and reliability of no-load test results. Furthermore, the evolution of transformer technologies and materials has introduced new challenges that may affect the validity of traditional no-load test methodologies. To bridge this gap, this study employs MATLAB-Simulink simulations to enhance the analysis by integrating conditional factors and parameters, offering higher accuracy compared to traditional calculations and laboratory experiments. The research will yield two sets of results: one from mathematical equations and another from MATLAB simulations, enabling a thorough comparison and the derivation of valuable recommendations in the power generation industry.
References
Abanihi, K. V., Aigbodion, D. O., Kokoette, E. D. & Diarah, R. S. (2014). Analysis of load test, transformation, turns ratio, efficiency and voltage regulation of single phase transformer. International Journal of Science, Environment and Technology, 3(5), 1657-1667.
Agena, K., Razmiko, A., Darwin, A., Jonas, A., Caesar, B. J., Kevin, B. M., Ellaine, B. V., Pamela, B., Marivette, B. & Sherlyn, C. (2014). Transformer Core and Transformer Winding. Academia. https://www.academia.edu/5666402/Transformer_Core
Ahmed, A. (2022). Open-Circuit and Short-Circuit Tests in Transformers. EE Power, Technical Article.
Balci M. (2014). On the no-load loss of power transformers under voltages with sub-harmonics. Turkish Republic Ministry of Science, Industry and Technology. Project 01008.STZ.2011-2, pp. 3-7.
Dasgupta, I. (2002). Design of Transformers. McGraw-Hill Education.
Daware, K. (2014). Open Circuit and Short Circuit Test On Transformer. Electrical Easy. https://www.electricaleasy.com/2014/04/open and short circuit test on transformer.html
de Melo, A. G., Benetti, D., de Lacerda, L. A., Peres, R., Floridia, C., Silva, A. D. A., & Rosolem, J. B. (2019). Static and dynamic evaluation of a winding deformation FBG sensor for power transformer applications. Sensors, 19(22), 4877. https://doi.org/10.3390/s19224877
Glover, J. D., Sarma, M. S., & Overbye, T. J. (2008). Power System Analysis and Design. Thomson Learning, Part or the Thomson Corporation. ISBN: 10: 0-534-54884-9.
Houcque, D. (2005). Introduction To MATLAB For Engineering Students. Northwestern University.
Koprivica, B. & Koprivica, S. M. (2017). No-load Operation of Single-Phase Transformer at Low Frequencies. International Scientific Conference "UNITECH 2017" – Gabrovo.
Nahidul, I. (2021). Transformer Open Circuit Test Using Simulink. Mathworks, Matlab Central File Exchange. Model - R2014a.
Patil, N., & Patil, J. H. (2015). Design and Analysis of Transformer using MATLAB. International Journal of Science Technology and Engineering, 1(12), 23-28. https://www.doi.org/10.36106/ijsr
Popescu, M. C. & Mastorakis, N. (2009). Modelling and simulation of step-up and step-down transformers, World Scientific and Engineering Academy and Society, 1(6), 23-34.
Ramamurthy, J. R., Chiesa, N., Høidalen, H. K., Mork, B. A., Stenvig, N. M., & Manty, A. C. (2017). Influence of voltage harmonics on transformer no-load loss measurements and calculation of magnetization curves. Electric Power Systems Research, 146, 43-50. https://doi.org/10.1016/j.epsr.2017.01.022
Uzoamaka, C. (2022). Analysis of No-Load Test on Power Transformer: Case Study 2.5MVA 33/0.415KV Transformer in Law School Rivers State.
Waldi, T. (2002). Electrical Machines, Drives, and Power Systems (5th ed.). Prentice Hall.
Wiranto, A. (2016). Transformer Basics a Typical Voltage Transformer. Academia. https://www.academia.edu/36956457/Transformer_Basics_A_Typical_Voltage_Transformer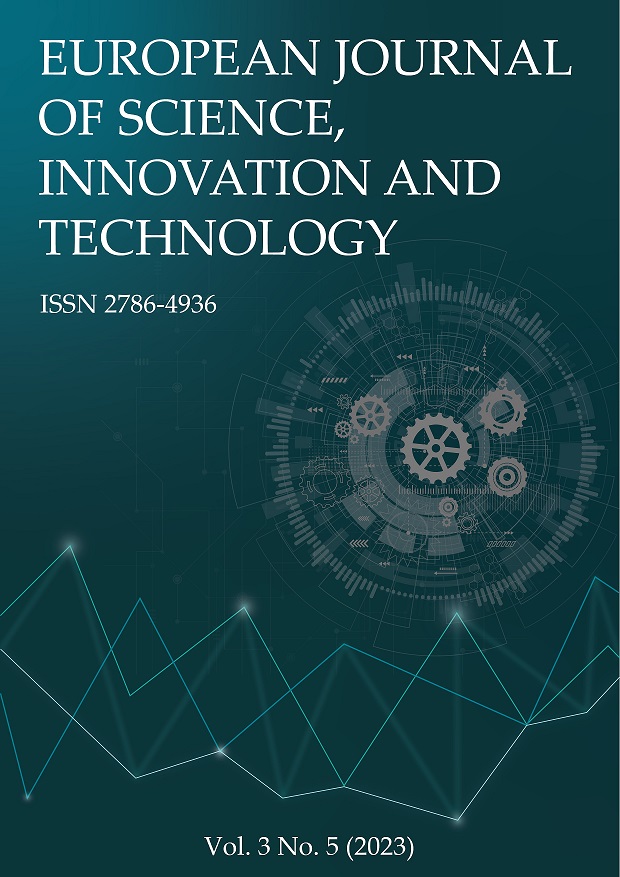 How to Cite
Horsfall, D., & Eneotu, F. (2023). Analysis of No-Load Test on a Power Transformer: Case Study of 2.5MVA 33/11KV Transformer Located in Harmony Estate, Nigeria. European Journal of Science, Innovation and Technology, 3(5), 62-80. Retrieved from https://ejsit-journal.com/index.php/ejsit/article/view/288
Copyright (c) 2023 Dan Horsfall, Frederick Eneotu
This work is licensed under a Creative Commons Attribution 4.0 International License.