The Causes of Peasant Malnutrition in the Municipality of Aouda, Togo
Komla EDOH

Félix AGBENOWOSSI

Marcelle Yéndoutote DANAME

Koku AVOUGLA
Keywords:
factors, peasant malnutrition, health problem, Aouda-Togo
Abstract
Malnutrition is one of the main health issues affecting populations. The aim of this study is to highlight factors explaining this phenomenon in the municipality of Aouda in central Togo. The methodology adopted is based on documentary research and participant observation, on the one hand, and on field surveys of a representative sample of 145 rural households, on the other. The processing software used was mainly Excel, QGis, SPSS and Word. The results show that socio-economic and demographic characteristics and environmental factors are the main determinants of household vulnerability to malnutrition. Thus, 64% of households surveyed confirmed food deficit during the months of April, May, and June. This deficit results from the insufficiency of farmland and lack of financial resources for agricultural production. In addition, 54% of households suffer from lack of electricity and 19% lack drinking water. This situation accentuates the vulnerability of households to malnutrition due to the lack of conservation of perishable foodstuffs.
References
Coulombe, H. & Mckay, A. (1998). La mesure de la pauvreté : vue d'ensemble et méthodologie avec illustration dans le cas du Ghana. L'Actualité économique, 74(3), 415–443.
DGSCN. (2012). Recensement général de la population et de l'habitat (06 au 21 novembre 2010). Résultats définitifs, Lomé, 44p.
DGSCN. (2014). Troisième Enquête Démographique et de la Santé au Togo (EDST-III). Rapport préliminaire, Lomé, 32p.
Diarra, I. (2018). Dynamique de la pauvreté en milieu rural agricole ivoirien. Clermont-Ferrand, Université Clermont Auvergne, 216p.
Djengue, A. (2014). Problématique de la malnutrition infantile à l'Est-Mono. Mémoire de maîtrise, Université de Kara, Kara, 99p.
FAO. (2000). L'insécurité alimentaire : la faim au quotidien et la crainte permanente de la famine. Italie, Rome, p. 40.
FAO. (1996). Déclaration du sommet mondial sur la sécurité alimentaire. FAO, Rome, 46p.
FAO. (1999). Aperçus nutritionnels par pays. FAO, Rome, p. 30.
FAO. (2018). Rapport sur la nutrition mondiale. République Démocratique du Congo 2017, Yangambi, p. 12.
MICS6 Togo. (2019). Enquête par grappes à indicateurs multiples. Rapport des résultats de l'enquête, Lomé, 597p.
Ministere de la Santé et de la Protection Sociale du Togo. (2019). Annuaires des statistiques sanitaires du Togo. Division de l'information sanitaire, Lomé, 314p
Noheli, S. (2007). Impact de la taille du ménage sur la santé de la population : Explication des données brutes de l'EDS 2005, cas de l'ancienne province de Ruhengeri-Rwanda. Université Libre de Kigali, 71p.
OMS. (1999). Nutrition of young children and their mothers in Togo. OMS, Genève, 46p.
PNUD. (2011). Cartographie de la pauvreté au Togo. BEYOND Productions, Lomé, 133p.
PNUD. (2016). Réduction de la pauvreté. PNUD, Lomé, 16 p.
OMS & UNICEF. (2017). Rapport sur les progrès en matière d'assainissement et d'alimentation. OMS, Genève, 47p.
Sanou, S., et al. (2018). Consommation alimentaire des ménages et déterminants de la diversité alimentaire : Cas de quatre communes dans la région Nord du Burkina Faso, In. J. Biol. Chem. Sci., 12(4). DOI: https//dx.doi.org/10.4314/jbcs. v12i4.21 1784-1801 p.
UNICEF. (2001). situation de la femme en Afrique de l'ouest et du centre, New-York, 212p.
http://www.inegalites.fr : consulté le 09/05/2022
http://www.who.int/whr2006/whr.pdf : consulté le 10/10/2021 à 9H 15' GMT
http://www.thenewhumanitarian.org : consulté le 06/10/2021 à 15H GMT
http://www.fao.org : consulté le 06/10/2021 à 15H 02' GMT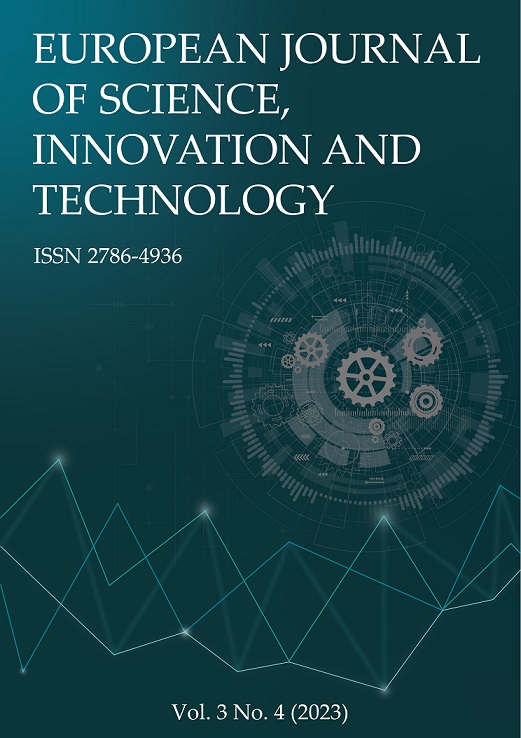 How to Cite
EDOH, K., AGBENOWOSSI, F., DANAME, M. Y., & AVOUGLA, K. (2023). The Causes of Peasant Malnutrition in the Municipality of Aouda, Togo. European Journal of Science, Innovation and Technology, 3(4), 429-439. Retrieved from https://ejsit-journal.com/index.php/ejsit/article/view/271
Copyright (c) 2023 Komla EDOH, Félix AGBENOWOSSI, Marcelle Yéndoutote DANAME, Koku AVOUGLA
This work is licensed under a Creative Commons Attribution 4.0 International License.