Integrity and Fidelity in Covenant Relationship: Unraveling the Import of Exodus 6: 7 and its Lessons Today
Gerald Emem Umoren

Sylvester Udofia
Keywords:
Integrity, Fidelity, Covenant, Relationship, Old Testament
Abstract
Life is lived in different types of covenant relationship that is supposed to be built on trust. However, the common problem is that many either wade into serious covenant relationships without evaluating the credibility of the partner and the sustainability of the partnership; or some who appear credible at the beginning soon turn incredible, resulting in the plethora of broken agreements and covenant relationships that we see today. This paper on integrity and fidelity in covenant relationship is a response, from the point of view of the Bible, to the need for sustained covenant relationships today. Using the exegetical approach to interpret Exodus 6: 7, this paper will identify and highlight the inherent qualities in the Covenant relation between God and His people and, eventually, using the analytical method, examine if and how (far) these perceived values of the Biblical Covenant can be used as a paradigm for today's covenant relationship. The findings, evaluations, results and conclusions of; together with the recommendations from this research, promise to be insightful and beneficial to covenant relationship within and outside religious circles.
References
Dozeman, T. B. (2010). Exodus. In Eerdman's Critical Commentary. Grand Rapids: Eerdmans.
Dozeman, T. B. (2018). Exodus. In Jose Enrique Aguilar Chiu et al. (Eds.), The Paulist Biblical Commentary (pp. 65-100). New York/Mahwah, NJ: Paulist Press.
Dumbrell, W. J. (1984). Covenant and Creation: A Theology of Old Testament Covenants. Nashville: Thomas Nelson.
Dyrness, W. (1979). Themes in Old Testament Theology. Exeter: Paternoster Press.
Faley, R. J. (1997). Bonding with God: A Reflective Study of Biblical Covenant. New York: Paulist.
Fretheim, T. E. (1991). Exodus: Interpretation. Louisville, KY: John Knox.
Hillers, D. R. (1969). Covenant: The History of a Biblical Idea. Baltimore & London: The John Hopkins University Press.
Horton, M. (2006). God of Promise: Introducing Covenant Theology. Grand Rapids, MI: Baker.
Jensen, M. C. (2009). Integrity: Without it Nothing Works. Rotman Magazine: The Magazine of the Rotman School of Management, Fall 2009, 16-20.
Killinger, B. (2010). Integrity: Doing the Right Thing for the Right Reason. New Baskerville: McGill-Queen's Press – MQUP.
Mendenhall, G. & Heiron, G. A. (1992). Covenant. In D. N. Freedman (Ed.), Anchor Bible Dictionary (Vol. 1). London: Doubleday.
Nicholsen, E. W. (1998). God and His People: Covenant and Theology in the Old Testament. Oxford: Clarendon Press.
Nyoyoko, V. G. (1997). Covenant Making in Annang Society. AFE: Journal of Minorities Studies, 1, 81-93.
Nyoyoko, V. G. (2000). The Role of Women in the Old Testament Covenant Community. Journal of Religious Studies, 111(1), 54-88.
Nyoyoko, V. G. (2001). Historical Origin and Development of Old Testament Covenant Concept. In D. I. Ilega (Ed.), Studies in World Religions (pp. 1-23). Ado Ekiti: Hamaz Global Publishing Co.
Nyoyoko, V. G. (2003). The Sinaitic Covenant: A Spirituality of Liberation in African Society. Takoradi, Ghana: St. Francis Press.
Nyoyoko, V. G. (2003). The Structure of Old Testament Cosmic Covenant: Its Relevance in Contemporary Society. The Oracle, 1(6), 94-105.
O'Donnel, C. L. (2008). Defining, Conceptualizing, and Measuring Fidelity of Implementation and Its Relationship to Outcomers in K – 12 Curriculum Intervention Research. Review of Educational Research, 78(1), 33-84.
Polak, F. H. (2009). Exodus. Berit Olam Series. Collegeville MN: Liturgical.
Udoette, D. (2008). Messengers of God. Uyo: Bricks.
Udoette, D. (2008). Prophecy in Israel and in the new Religious Movements in Nigeria. The Oracle: International Journal of Culture, Religion and Society, 1(2).
Umoren, G. E. (2017). Masculinity in Old Testament Covenant Theology: An Interpretation of Genesis 17:1–21 and its Implication for Gender Sensitivity. Journal of University Scholars in Religion (JUSREL), 7, 191-199.
Walton, J. H. (1994). Covenant: God's Purpose, God's Plan. Grand Rapids, MI: Zondervan.
Youngblood, R. (1983). The Abrahamic Covenant: Conditional or Unconditional? In M. Inch & R. Youngblood (Eds.), The Living and Active Word of God (pp. 31-46). Winona Lake, Indiana: Eisenbrauns.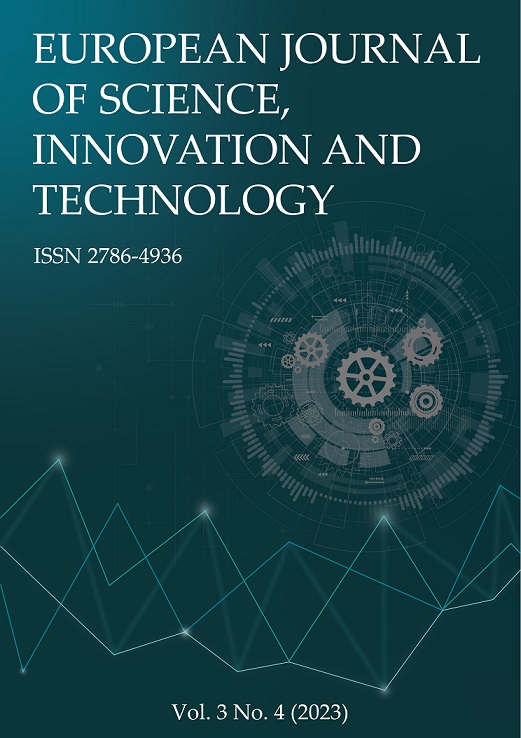 How to Cite
Umoren, G. E., & Udofia, S. (2023). Integrity and Fidelity in Covenant Relationship: Unraveling the Import of Exodus 6: 7 and its Lessons Today. European Journal of Science, Innovation and Technology, 3(4), 277-291. Retrieved from https://ejsit-journal.com/index.php/ejsit/article/view/258
Copyright (c) 2023 Gerald Emem Umoren, Sylvester Udofia
This work is licensed under a Creative Commons Attribution 4.0 International License.