Contamination of the Waters of the Kamatanda River by Trace Metals from Artisanal Mining Activities
Oscar Kayembe

Simon Muhune

Lord Mwape

Martin Mutala

Bienvenue Ilunga

Michel Kananda

Trésor Lukusa

Marsi Mbayo

Dieudonné Tshibanda

Emery Kalonda
Keywords:
contamination, trace metals, mining activities, waters
Abstract
The purpose of this study is to verify the pollution of the Kamatanda River caused by the artisanal miners of the Kamatanda mine in the town of Likasi in the south of the Democratic Republic of Congo. To achieve this, water samples were taken every April for two years. The results of the physicochemical and chemical parameters recorded at the various sampling points show significant contamination during operations, i.e., the year 2018, reflected by high levels of trace metals such as As, Cd and Cr; and low levels during a period of cessation of operations, April 2019.
References
Banza, L. (2003). Gestion des déchets plombifères et cadminifères dans la ville de Lubumbashi : Une menace à la survie de l'espèce humaine. Mémoire d'études supérieures, Ecole de santé publique, Faculté de médecine, Université de Lubumbashi, pp. 25-27.
Chipeng, K.F. (2010). Etude d'une espèce tolérante au cuivre : Haumaniastrum katangense-Mise au point de sa culture et étude des mécanismes de tolérance. Thèse de doctorat, Département de Gestion des Ressources Naturelles, Faculté des Sciences Agronomiques, Université de Lubumbashi, RDC, p. 7.
Fouad, S., Hajjami, K., Cohen, N., & Chlaida, M. (2014). Qualité physico-chimique et contamination métallique des eaux de l'Oued Hassar: impacts des eaux usées de la localité de Mediouna (Périurbain de Casablanca, Maroc). Afrique Science: Revue Internationale des Sciences et Technologie, 10(1).
François, A. (1973). L'extrémité occidentale de l'arc cuprifère shabien. Étude Géologique. Département de géologie, Gécamines, Likasi, Shaba, zaïre., p. 120.
Kayumba, K. P. & Mwamba, L. A. (2013). Rapport de l'enquête sur la pollution de l'environnement dû aux activités minières inédit.
Kisanguka, M. (2010). La perception de la pollution de l'eau par les riverains de la rivière Kafubu. Mémoire de Diplôme d'Etudes Approfondies (DEA), Ecole de Sante Publique, Faculté de médecine, Université de Lubumbashi, RD Congo, pp. 35-44.
Kitobo, S.W. (2009). Dépollution et valorisation des rejets miniers sulfurés du Katanga : cas des tailings de l'Ancien Concentrateur de Kipushi. Thèse de doctorat, Faculté des sciences appliquées, Université de Liège, Belgique, pp. 7-42, 225.
Kumwimba, J. (2009). La problématique de l'exploitation minière artisanale dans la province du Katanga (cas du district de Kolwezi). Institut Supérieur d'Etudes Sociales, Kolwezi - Licence en sociologie industrielle.
Lootens, M., & Lumbu, S. (1986). Suspended sediment production in a suburban tropical basin (Lubumbashi, Zaire). Hydrological sciences journal, 31(1), 39-49.
Muteba, L., Nyembo, F., & Mwadiavinta, T. (2011). La pollution de la rivière Kafubu : Mayi ni uzima. Rapport d'enquête, 1, Lubumbashi, 31-54.
Raissouni, M., Djebary Tahiri, Z., El Arrim, A., & Er-Raioui, H. (2016). Heavy metal concentration of surface water of Martil's watershed leading into the Moroccan Western Mediterranean. International Journal of Innovation and Applied Studies, 17(2), 447–459.
SNC-Lavalin. (2003). International,Etude sur la restauration des mines de cuivre et de cobalt en République Démocratique du Congo. Rapport préliminaire M-6708 (609082), Montréal, Canada, pp. 5-14.
Tshibanda, D. (2012). Contribution à la recherche d'un modèle de gestion d'un passif environnemental issu d'un traitement métallurgique des minerais sulfurés cuivre-zinc en République Démocratiques Congo. Thèse de doctorat, Faculté des Sciences, Université Libre de Bruxelle, Belgique, pp. 22-80, 2012.
Vande, W., Franssen, J., Kalambay, G., Kramkimel, J.D., & Musibondo, D. (2005). Profil environnemental de la République Démocratique du Congo. Rapport provisoire, contrat no. 2005/105393, vol. 1, p. 42.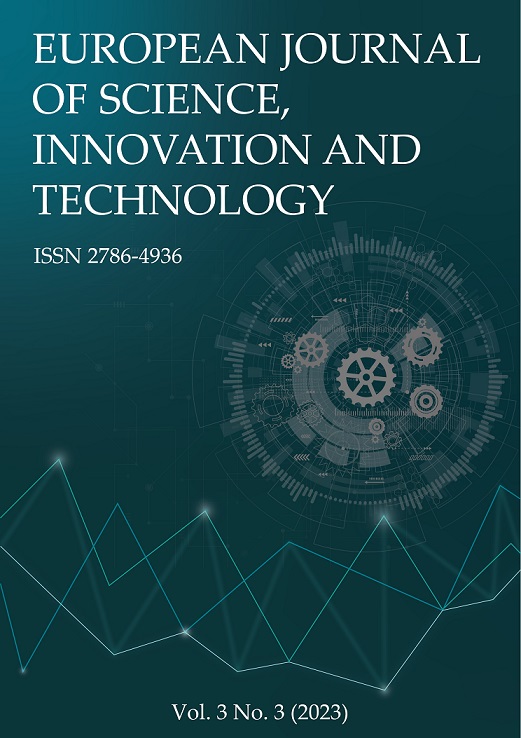 How to Cite
Kayembe, O., Muhune, S., Mwape, L., Mutala, M., Ilunga, B., Kananda, M., Lukusa, T., Mbayo, M., Tshibanda, D., & Kalonda, E. (2023). Contamination of the Waters of the Kamatanda River by Trace Metals from Artisanal Mining Activities. European Journal of Science, Innovation and Technology, 3(3), 481-486. Retrieved from https://ejsit-journal.com/index.php/ejsit/article/view/235
Copyright (c) 2023 Oscar Kayembe, Simon Muhune, Lord Mwape, Martin Mutala, Bienvenue Ilunga, Michel Kananda, Trésor Lukusa, Marsi Mbayo, Dieudonné Tshibanda, Emery Kalonda
This work is licensed under a Creative Commons Attribution 4.0 International License.