Perception of Households on Effective Solid Waste Management Techniques in Uyo Metropolis
Godwin A. Usoh

Cyprian N. Tom

Francis N. Orji

Joseph A. Edet

Helen U. Sampson
Keywords:
Respondent, Questionnaire, Households, Techniques, Metropolis
Abstract
The study was carried out to investigate the perception of households on solid waste management practices for effective solid waste management techniques in Uyo metropolis of Akwa Ibom State. To evaluate the perception of households in Uyo metropolis, a multi-stage random sampling technique was used in selecting the appropriate sample in order to evaluate the objectives of the study. In the first stage, Uyo metropolis was divided into five sub areas based on the five major routes from the centre of the city namely Oron, Abak, Aka, Barracks and Ikot Ekpene Roads. In the second stage, forty (40) households were randomly selected as sample size from each of the five sub areas giving a total of two hundred (200) respondents for the study. The researcher-developed questionnaire was used for data collection in the study area. Data obtained were analysed using simple descriptive statistics. The results of the study showed that gender distribution of the respondents had male (56 %) as the majority, and marital status of the respondent revealed that most of the respondents (55 %) were married. Results also showed that majority (63.1 %) of the respondents said most of the wastes disposed by their household was food debris, followed by plastic waste (28.8 %) to nylon with 7.34 % while wood (0.11%) occupied least proportion. Households waste management practices and perceptions among respondents in Uyo metropolis revealed that 78.5 % of the respondents did not segregate their waste at home while 21.5% segregate their waste at home. Results also showed that all the respondents (100%) used open burning system out of which 137 respondents (68.5 %) used it always and 63 respondents (31.5%) used it sometimes. Other techniques known to them include incineration method (76 %), composting method (24 %), ploughing into the field (11.5 5), hog feeding method (5.5 %), salvaging method (8 %) and fermentation method (7 %). Results showed that effective solid waste management techniques in the study area include open burning method, incineration method and sanitary landfills. The study therefore recommended that MSW should be separated at source, waste reduction and recycling should be seeing as a habit and way of life. The waste management agency of the State should facilitate this activity by providing more bins to segregate wastes, establishing waste banks and recycling facilities at a wider scale than the scattered existing ones and environmental protection officers should be sent to households on regular basis to supervise and guide the households on how to effectively manage their solid wastes in the study area.
References
Ahuchaogu, I. I., Usoh, G. A., Daffi, R. E. & Umana, J. M. (2022). Soil Properties Affected by Soil and Water Conservation Structures (Gabions and Mattresses) in Ikot Akpan Ravine, Uyo, Nigeria. Scientific Journal of Agricultural Engineering, 2(4), 20-30.
Aleluia, J. & Ferrão, P. (2016). Characterization of urban waste management practices in developing Asian countries: A new analytical framework based on waste characteristics and urban dimension. Waste Manag, 58, 415–29.
AISMLS (Akwa Ibom State Ministry of Land Surveying) (2020). Available at: https://www.aksgonline.com/ about_people_population.html (accessed on 5th May, 2020).
Amoah, S. T. & Enoch, A. K. (2014). Solid Waste Management in Urban Areas of Ghana: Issues and Experiences. Journal of Environmental Pollution and Human Health, 2(5), 110-117.
Aweng, E. R. & Fatt, C. C. (2014). Survey of Potential Health Risk of Rubbish. Journal of Health and Pollution, 6(1), 390-396.
Ekong, E. E. (2003). Rural Sociology: An Introduction and Analysis of Rural Pollution. Dore Education Publishers, Uyo Nigeria, pp. 665-672.
Erdogan, R. Z., Zaimoglu, M., Yavuz, S., Fuat, B. & Secil, K. (2008). Applicability of Leachates Originating from Solid-Waste Landfills for Irrigation in Landfill Restoration Projects. J. Environ. Biol., 2(9), 779-784.
Fadhullah, W. Imran, N. N., Ismail, S. N., Jaafar, M. H. & Abdullah, H. (2022). Household solid waste management practices and perceptions among residents in the East Coast of Malaysia. BMC Public health, 22, 1-19.
Glawe, U. C. & Visvanathan, A. M. (2005). Solid Waste Management in Developed Countries: A Comparative Analysis. Journal of International Development, 9(1), 446-458.
Isak, R., Parveen, R., Rafique, A., & Alamgir, A. (2013). Phytotoxic effects of heavy metals (Cr, Cd, Mn, Zn) on wheat seed germination and seedlings growth in black cotton soil of Nanded, India. Res. J. Chem.l Sci., 3(6), 14-23.
Kansal, A. (2002). Solid Waste Management Strategies for India. International Journal of Environmental Protection, 2(1), 444-448.
Khajuria, A., Yamamoto, Y. & Morioka, T. (2008). Solid Waste Management in Asian Countries: Problems and Issues. Proc. of 4th International Conference on Waste Management and Environment, Nigeria, pp. 643-653.
Nta, S. A., Usoh, G. A. & James, U. S. (2017). Impact of Gas Flaring on Agricultural Production of Edo Esit-Eket Local Government Area, Akwa Ibom State, Nigeria. International Research Journal of Advanced Engineering and Science, 2(4), 181-184.
Ojo, O. M. (2014). Solid Waste Management in Obantoko Area of Abeokuta, Nigeria. Journal of Emerging Trends in Engineering and Applied Sciences (JETEAS), 5(2), 110-115.
Onibokun, A. G. (2000). Managing the Monster: Urban Waste and Governance in Africa. Journal of Solid Waste Technology and Management, 2(2), 66-74.
Osuala, E. C. (2001). Introduction to research methodology (3rd ed.). Onitsha: African – FEP Publishers Ltd.
Peter, K., Morton, A. B., Alix, P. R., Anders, B., Anna, L. & Thomas, H. C. (2002). Present and Long-Term Composition of MSW Landfill Leachate. Journal of Environmental Science and Technology, 32(4), 297-336.
Udoh, F. R. & Sobulo, D. M. (2010). Physicochemical and Bacteriological Analysis of Borehole Water in selected Areas in Uyo Metropolis. International Journal of Modern Chemistry, 2(3), 237-242.
Usoh, G. A. (2023). Characterization of Municipal Solid Waste for Effective Planning of Municipal Waste Management Scheme in Uyo Metropolis. Journal of Scientific and Engineering Research, 10(5), 243-248.
Usoh, G. A., Ahaneku, I. E., Horsfall, I. T., Alaneme, G. U., & Itam, D. H. (2022). Numerical modeling and simulation of leachate transport in MSW contaminated soil: Impact on seasonal changes. Cleaner Materials, 4, 100089. https://doi.org/10.1016/j.clema.2022.100089.

Usoh, G. A., Ahaneku, I. E., Ugwu, E. C., Sam, E. O., Itam, D. H., Alaneme, G. U., & Ndamzi, T. C. (2023a). Mathematical modeling and numerical simulation technique for selected heavy metal transport in MSW dumpsite. Scientific Reports, 13(1), 5674-5674.
Usoh, G. A., Ahaneku, I. E., Ugwu, E. C., Akpan, G. E., Ahuchaogu, I. I. & Udom, I. J. (2023b). Determination of Water Quality Index for Assessment of Stream and Borehole Water Quality around Uyo Waste Dumpsite. Adeleke University Journal of Engineering and Technology, 6(1), 33-45.
Usoh, G. A., Etim, P. J., Edet, J. A., Tom, C. N. & Sampson, H. U. (2023c). Effect of Municipal Solid Waste on Elemental Composition of Water Leaf Plant. Adeleke University Journal of Engineering and Technology [AUJET], 6(1), 96-106.
Usoh, G. A., Nwa, E. U., Okokon, F. B., Nta, S. A., & Etim, P. J. (2017). Effects of Drip and Furrow Irrigation Systems Application on Growth Characteristics and Yield of Sweet Maize under Sandy Loam Soil. International Journal of Scientific Engineering and Science, 1(1), 22-25.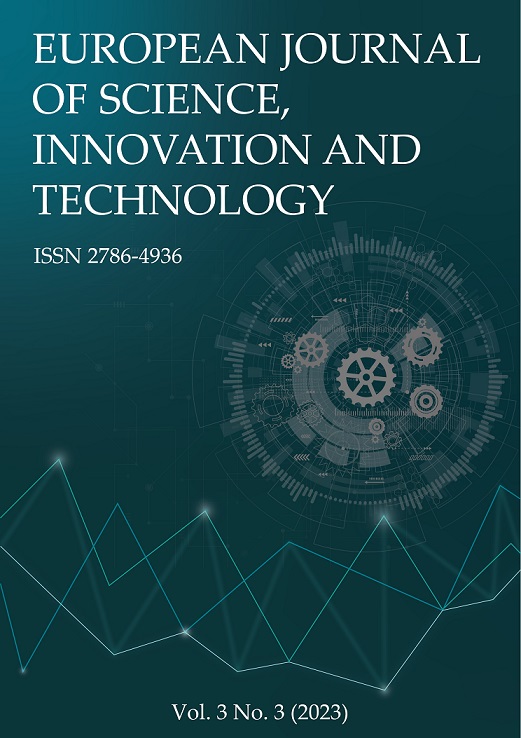 How to Cite
Usoh, G. A., Tom, C. N., Orji, F. N., Edet, J. A., & Sampson, H. U. (2023). Perception of Households on Effective Solid Waste Management Techniques in Uyo Metropolis . European Journal of Science, Innovation and Technology, 3(3), 441-453. Retrieved from https://ejsit-journal.com/index.php/ejsit/article/view/232
Copyright (c) 2023 Godwin A. Usoh, Cyprian N. Tom, Francis N. Orji, Joseph A. Edet, and Helen U. Sampson
This work is licensed under a Creative Commons Attribution 4.0 International License.