Routine Medical Check-Up and the Indifference of Potential Patients: Wearable Technology Advocacy
Chiazor Anthonia Chiaghana

Gloria Nneka Ono

Ngozi U. Megwas
Keywords:
Routine medical check-up, Wearable technologies, Health condition
Abstract
This work is within the ambit of health informatics. It is a position paper centered on justifying the need for wearable technologies advocacy in order to induce the culture of well being awareness among potential Nigerian patients. Wearable technologies make it possible to monitor human physical activities, physiological and biochemical parameters, on a daily basis. Wearable technologies come in the form of devices attached to shoes, eyeglasses, earrings, clothing, gloves, watches, skin attachable devices, apps on smart-phones, sensors which could be embedded on car seats, chairs and mattresses. Oftentimes it may seem that we are healthy and there is no need for medicals, this may engender an indifferent attitude to routine medical checks and avoidable health conditions. Routine medical checks serve as early warning. This can help to advance longevity among the populace. A higher percentage of citizens in advanced societies appear to prioritize routine medical checks and this may be one factor which accounts for their higher longevity. We used secondary data by way of literature reviews to establish the situation in Nigeria with regards to routine medical checks among potential patients. These reviews showed that there are a lot of factors inhibiting the practice of periodic medicals among Nigerians across different age brackets. Chief among these factors was indifference. We also noted that Nigerians are lovers of new technologies, among these wearable technologies. We therefore suggested that there should be wearable technologies advocacy by medical NGOs and government to leverage technology to induce the culture of continuous health monitoring among the populace.
References
Abdullah, B. A., Rajab, A.K., Ammar, Y.K., Shahem, M.A., Jalal, T.A., & Parameaswari, P.J. (2020). Journal of Patient Experience, 7(6), 1310-1315. Doi: 10.1177/2374373519851003
Amanda, F. (2015). Doctors And Patients see Benefits of wearable Technology. Connecticut health I-health team. C-hit.org/2015/10/12/doctors-and-patients-see-benefits-of-wearable technology
Billy, P. (2018). Is Wearable Technology the Future of Healthcare. https://guardian ng/life/wellness.
de Waard, A. K. M., Wändell, P. E., Holzmann, M. J., Korevaar, J. C., Hollander, M., Gornitzki, C., ... & Carlsson, A. C. (2018). Barriers and facilitators to participation in a health check for cardiometabolic diseases in primary care: A systematic review. European Journal of Preventive Cardiology, 25(12), 1326-1340.
Djong, I.N., Alberta, D.N., & Prudence, A. (2020). Routine Medical checkup Knowledge, Attitude and Practice among Health care workers in a Tertiary Health faculty in Calabar, Cross River State, Nigeria. Global journal of Health Science, 12(8), 27. Doi: 105539/gjhs.y12n8p27
Gosadi, I. M., Ayoub, R. A., Albrahim, H. T., Alhakami, M. S., Ageely, E. H., Alwadani, R. S., ... & Shteafi, S. A. (2022). An assessment of the knowledge and practices of adults in Jazan, Saudi Arabia, concerning Routine medical checkups. Patient preference and adherence, 16, 1955-1969.
Hakro, S., & Jinshan, L. (2019). Workplace employees' annual physical checkup and during hire on the job to increase health-care awareness perception to prevent disease risk: a work for policy-implementable option globally. Safety and Health at Work, 10(2), 132-140.
Jeanna, D.S., (2022). Why do so many men skip regular health checkups? Medical News Today. https//med/news today//2022.
Jennings-Sanders, A. (2003). Using health fairs to examine health promotion behaviors of older African Americans. ABNF Journal, 14(1), 13.
Kang, M. I., & Ikeda, S. (2016). Time discounting, present biases, and health-related behaviors: Evidence from Japan. Economics & Human Biology, 21, 122-136.
Liu, Z. (2012). A healthy attitude towards health check. https://China Daily.com.
Nasir, S., & Yurder, Y. (2015). Consumers' and physicians' perceptions about high tech wearable health products. Procedia-Social and Behavioral Sciences, 195, 1261-1267.
Ngo, T. T., Hoang, P. N., Pham, H. V., Nguyen, D. N., Bui, H. T., Nguyen, A. T., ... & Le, T. A. (2021). Routine medical check-up and self-treatment practices among community-dwelling living in a mountainous area of northern Vietnam. BioMed Research International, 2021, 8734615. Doi: 10.1155/2021/8734615.
Oguntoye, O. O., Yusuf, M., & Durowade, K. A. (2017). Perception and practice of routine medical check-up by health workers at a tertiary health facility in South-West Nigeria. International Journal of Medicine and Biomedical Research, 6(3), 151-162.
Olayinka, S.I., Omotoso, B., Alele, F.O., & Amenkhienan, I., (2015). Periodic Medical Check up: Knowledge and Practice in a Community in South West, Nigeria. Department of Community Health Federal Medical Centre, Owo Ondo State, Nigeria.
Usman, S., & Akintayo-Usman, N., (2016). Periodic Medical Check up among residents of three Nigerian South Western States. Journal of Contemporary Medicine, 6(3). doi: 10.16899/ctd 65941.s
World Health Organisation (2010). Towards a strategy for cancer control in Eastern Mediterranean.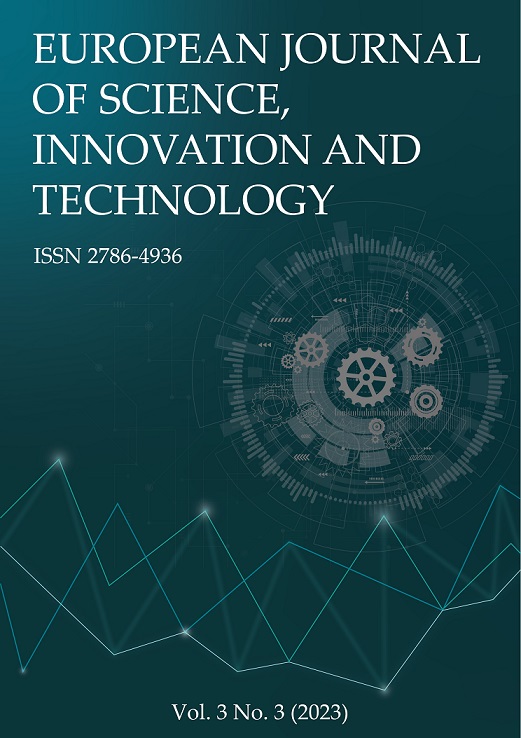 How to Cite
Chiaghana, C. A., Ono, G. N., & Megwas, N. U. (2023). Routine Medical Check-Up and the Indifference of Potential Patients: Wearable Technology Advocacy. European Journal of Science, Innovation and Technology, 3(3), 120-127. Retrieved from https://ejsit-journal.com/index.php/ejsit/article/view/202
Copyright (c) 2023 Chiazor Anthonia Chiaghana, Gloria Nneka Ono, Ngozi U. Megwas
This work is licensed under a Creative Commons Attribution 4.0 International License.